Important Announcement!!!
Sharing HOPE and the LOVE OF JESUS CHRIST is so important. Especially for people that do not understand what is going on in the world right now.  We know what the Bible says about FEAR, but in times of chaos we need to be encouraged by our Pastor more than ever!!! WE NEED TO PRAY FOR OUR PASTORS, CHURCH LEADERS, AND OUR NATION!
We strongly advise that you do not attend if you have any of the following symptoms: fever, cough and/or difficulty breathing. It is important that you remain 6 ft away from others to practice social distancing.
WE HAVE SANITATION STATIONS IN THE HALL BY CHILDREN'S CHURCH AND IN THE FOYER AT THE FRONT ENTRANCE.
Please remember if you cannot attend church service you can watch Pastor Guy Parrish's sermons several different ways…

GET PLUGGED IN TO LIFEPOINT CHURCH-MUSKOGEE!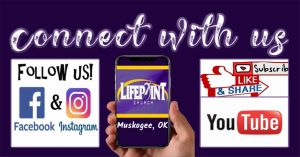 Don't forget to download our LIFEPOINT Muskogee App, follow us on Facebook and check out our website at www.lifepoint.life
YouTube.com (sermons can be viewed at anytime just search for "Pastor Guy Parrish)
Facebook Live  (Sunday morning services only)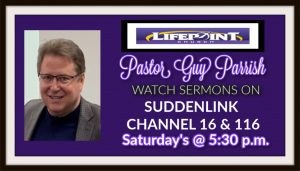 *  TV Ministry "Nothing But Church" on cable channel 16 & 116 every Saturday at 5:30 p.m.

If you are not attending church during this time, but you are wondering how to pay your tithes?
You have two options…
Mail a check to:
LIFEPOINT CHURCH
2200 S. 32ND STREET
MUSKOGEE, OK 74401
or…
Download the "LIFEPOINT MUSKOGEE" App
FOR IPHONE FOLLOW THESE INSTRUCTIONS:
OPEN APP AND CLICK ON DONATION TAB
TYPE IN AMOUNT OF THE DONATION IN USD
SELECT MAKE A DONATION
SELECT DONATE $$$ USD
THEN YOU HAVE A CHOICE TO DONATE BY USING PAYPAL ACCOUNT OR BY USING YOUR CREDIT CARD. IF YOU HAVE A PAYPAL ACCOUNT ENTER LOG IN AND FOLLOW STEPS. IF YOU WOULD LIKE TO PAY BY USING YOUR CREDIT OR DEBIT CARD MAKE THE "DONATE WITH DEBIT OR CREDIT" SELECTION.  ONCE YOU MAKE THAT SELECTION YOU WILL SIMPLY FILL IN ALL OF THE BLANKS WITH YOUR INFORMATION AND CLICK "DONATE NOW"
THE APP USES PAYPAL TO PROCESS PAYMENT WHICH IS A SECURE SIGHT!!!
IF YOU WANT YOUR PAYMENT SEPARATED FOR TITHES, MISSIONS, ETC… SIMPLY EMAIL THE CHURCH OFFICE AT lpchurch@suddenlinkmail.com AND LET VANESSA KNOW HOW YOU WOULD LIKE TO SEPARATE IT AND SHE MAKE SURE IT IS DONE CORRECTLY.
Events Happening This Month at LIFEPOINT Church!!!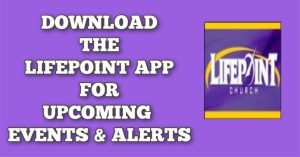 Please check the LifePoint Muskogee App or the LifePoint Facebook page for updates and cancellation of events.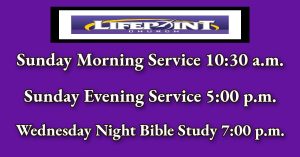 Sunday School Classes for all ages!

Wee Worship class is every Sunday morning for ages 4 to 6 years old.

LP Kids is our Sunday morning children's ministry for ages first through sixth grade. Services begin at 10:30 a.m. Ms. Dana would love to have your child/ren come and be a part of LP Kids!

Join us for Wednesday Night Bible Study at 7:00 p.m. (Fellowship Hall)

Outbreak Youth invites all youth to come and experience God's love and grace. Service begins at 7:00 p.m. Youth Pastor's David and Anna are so excited to be a part of the growth and amazing things God is about to do with this group!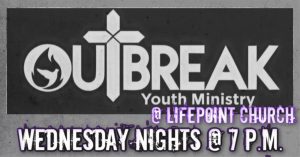 Check out our Wednesday Night Children's programs at 7:00 p.m.
MPact Girl's Ministry: Missionettes / Boy's Ministry: Royal Rangers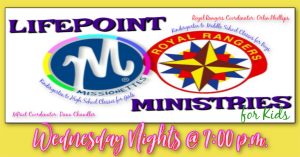 Every second and fourth Thursday in each month: WM's Meeting at 10 a.m. to 2 p.m. at LIFEPOINT Church.
All ladies are welcome to join in on devotion time, craft time and fellowship. Please bring a sack lunch with you.

Every second Sunday in each month:  BGMC "Missions".
Please don't forget to bring your change for the kids buddy barrels.

Every second Sunday in each month: Communion service at 10:30 a.m.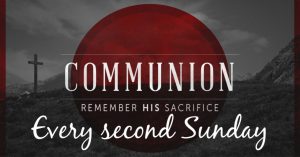 Sunday, September 6th @ 10:30 a.m. Guest Speaker: Kendall Bullard (No evening service)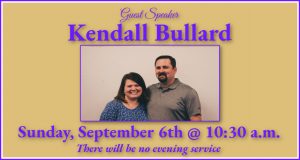 Saturday, September 19th @ 2:00 p.m. Wedding Shower for Jaycee Chandler at LifePoint Church.
Registered at Dillards, Target & Amazon…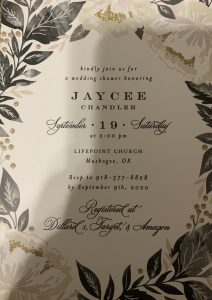 Board meeting & W.O.W (Women Of Worship) every fourth Tuesday of every month at 6:00 p.m.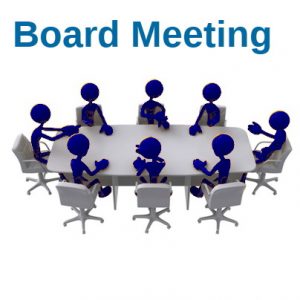 Teen Challenge will be sharing their ministry information with us briefly Sunday, September 27th @ 10:30 a.m.